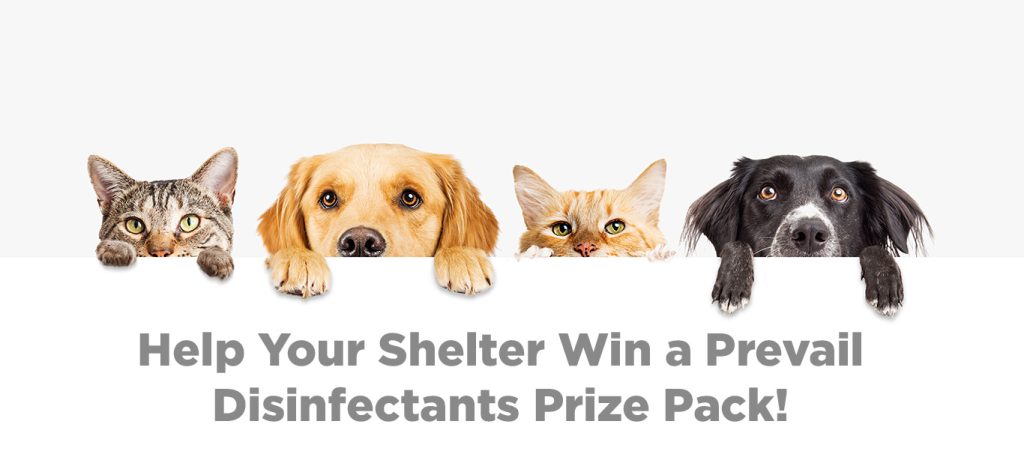 About Shelters Prevail
Nominate your favourite animal shelter or rescue! Every other month, Virox, makers of Prevail™ Disinfectants will select an animal shelter or rescue to receive a Prevail Disinfectants kit. 
About The Prevail Disinfectants Prize Pack
The Winner will Receive:
One (1) 3.78 L Bottle of Prevail™ Concentrate Disinfectant (plus pump) 
One (1) 1 L Bottle Prevail™ Ready-to-Use (plus trigger sprayer)
One (1) – Canister of Prevail™ Wipes
We will cover the cost of shipping!
Who Can Enter?
This contest is open to animal shelters that are nonprofits or municipal agencies that house dogs and cats in a permanent physical location that has regular business hours when they are open to the public.
Who Can Nominate?
Shelters can nominate themselves to win or an employee, volunteer or anyone else associated with your organisation, including your community, can nominate your shelter.
How Does It Work?
To enter, share how a Prevail™ Disinfectants #SheltersPrevail kit will benefit the animals and people in your local animal shelter.
Nominations Will Be Judged Based On The Following Criteria:
Safety: The necessity to maintain a clean and safe facility and prevent the spread of infection, using non-irritating disinfectants, that are easier on animals, the environment, employees and clients.
Care: Your passion to help save animals.
Responsibility: Alleviate animals stress and anxiety for animals by caring for the physical, emotional and behavioural health.